Your Future is Our Priority
Personal Attention For Clients in North Haven & Throughout Connecticut
SET UP AN APPOINTMENT
Estate Planning Checklist: Things to Consider Before You Start
Oct. 24, 2023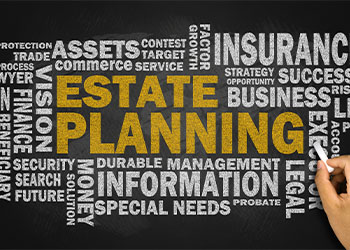 Estate planning remains a vital provision for every adult, regardless of whether you have small, moderate, or large estate or assets. Through a well-detailed estate plan, you can leave specific instructions in advance regarding how your estate and final affairs should be settled when you're gone. It can feel overwhelming knowing where to start, but thankfully, there are some important elements to use before you begin.
At DeChello Law Firm LLC, we understand how stressful it can be not knowing how to approach your estate plan – which is why we are here to guide you through the process. Our trusted Connecticut estate planning attorneys are available to discuss your unique circumstances and enlighten you about some crucial things to consider before drafting your estate plan.
Also, we have the tools to craft a personalized checklist to guide you through the estate planning process and help you make intelligent decisions. Our firm proudly serves clients across North Haven, Connecticut, and surrounding areas throughout New Haven County.
What Is Estate Planning?
Estate planning is the legal process – made in advance – where detailed plans are made concerning how you want your estate – assets, property, and finances – to be administered, disposed of, or distributed to surviving family members following your death or sudden incapacitation.
Essentially, estate planning requires drafting various legal documents, such as last will and testament, living trusts, advance care directives, powers of attorney, letter of intent (LOI), and so forth. With these estate planning documents, you can set forth specific instructions about what should happen to your estate when you're no more.
What Should I Consider Before I Draft an Estate Plan?
It is important to note that establishing a comprehensive estate plan is crucial to preserve your assets, property, and funds. Also, you can make adequate provisions for surviving loved ones and mitigate possible disputes during estate administration and probate. Here are some vital things to put into consideration before creating your estate plan:
Identify Your Purpose: Identify the actual purpose and reasons for making your estate plan. In addition, decide what you intend to accomplish with your estate planning.
Determine Assets and Property: Determine the property, personal belongings, assets, business, and investments to add to your estate plan. This would help ensure that you don't leave out anything.
Consider Beneficiaries: Consider the people – such as family members, descendants, heirs, and close relatives – who you want to be your beneficiaries. They will be the ones to inherit from your estate.
Identify Debts: Identify all of your debts and liabilities. Outline a strategic plan to repay your unpaid debts and creditors.
Decide Asset Distribution: Decide how you want these assets, property, and money to be distributed to the rightful beneficiaries and heirs when you die or upon sudden incapacitation.
Plan for Minors and Pets: Creating suitable provisions for family members, including minor children, incapacitated adults, pets, as well as family members with special needs.
Healthcare Decisions: It is vital to review your preferred options for medical procedures and treatments (advance healthcare directives). You will want to name a reliable person to help make health-related decisions when you're unable to.
Legal and Financial Matters: It will be extremely beneficial when drafting a power of attorney document and selecting an agent to help manage your property, financial, legal, and tax matters when you're unable or unavailable.
Consider Making Donations: Decide if you want to make asset, property, or financial donations to churches, schools, colleges, non-profits, and other charitable organizations.
Business Succession Planning: If you have a family or personal business, you should consider creating a business succession plan. This will help preserve your company's future. You can choose, mentor, and develop new leaders from within the company. If you retire, become incapacitated, or die, these new leaders will step into your position seamlessly.
Final Arrangement: Consider leaving instructions regarding your final arrangements, such as burial ceremony, funeral rights, and the disposition of remains.
Work With an Attorney: A seasoned attorney can evaluate all your various needs and walk you through the necessary legal procedures involved in establishing well-detailed estate planning.
Understand Your Next Steps
Before you start to establish your estate plan, understanding some of the crucial things to consider is crucial to make the plan as comprehensive as possible. At DeChello Law Firm LLC, we're ready and poised to advise and guide individuals and families through the complex legal procedures involved in drafting estate plans.
As your legal counsel, we can examine every surrounding facts of your personal situation and help you decide the right estate plan that best fits your unique needs. Our dedicated attorneys can assist in drafting your vital estate planning documents and work diligently to address all of your different needs and concerns.
Contact us at DeChello Law Firm LLC today to schedule a simple consultation with seasoned estate planning lawyers. Our trusted legal team can offer you the reliable advocacy and personalized legal guidance you need to make intelligent decisions about your estate planning. We proudly serve clients across North Haven, Connecticut, and surrounding areas throughout New Haven County.