Your Future is Our Priority
Personal Attention For Clients in North Haven & Throughout Connecticut
SET UP AN APPOINTMENT
Understanding Buy-Sell Agreements
Jan. 26, 2023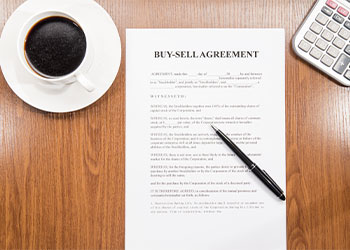 If you're looking to go into business with others, it's important to have a legally binding contract in place that communicates what should happen if you or another partner/co-owner decides to leave (or, worse, pass away or become incapacitated).
What happens to that person's share in the business if they are no longer on board? In addition to the practical aspects of who will take on their workload, there is also the risk that their share may fall into someone's hands who will create friction or make the business difficult to run.
This is where a buy-sell agreement comes into focus. A buy-sell agreement establishes how one co-owner or partner's share will transfer upon their departure. Generally, a buy-sell agreement restricts the transfer to the other partners or co-owners, who can buy out the departed person's interest through a fix method of valuation.
These agreements are vital to the continued operation of a business, which is why they should be crafted carefully with an experienced business attorney. All parties in the business should be involved to make sure their interests are being represented and protected.
If you are experiencing a buy-sell dispute in your business in or around North Haven, Connecticut, or you wish to have your agreement created, reviewed, or updated, contact us immediately at the DeChello Law Firm LLC. Our team of corporate and business attorneys can help you craft a customized agreement and resolve any buy-sell disputes. We proudly serve businesses and their owners throughout North Haven County, including Wallingford and Guilford, Connecticut.
What Is a Buy-Sell Agreement?
As briefly described above, a buy-sell agreement is a pact between co-owners or partners — or even among family members in a sole proprietorship — that sets up a process for evaluation and transfer of a person's ownership/partnership share should something happen to them. The death of a co-owner or partner is one possible scenario, but in addition other events could trigger the buy-sell agreement to kick in, including:
The resignation of a partner

The retirement of a partner

The termination or forcing out of a partner

The incapacitation or permanent disability of a partner

The divorce of a partner

The bankruptcy of a partner
The buy-sell agreement limits the sale of a partner's share to the other partners or co-owners. In the case of divorce, for instance, the buy-sell agreement prevents the spouse from assuming the spouse's ownership privileges and sets in motion a process for buying out the interest of the spouse. In the case of death, it likewise prevents the assignment of the decedent's share to heirs through a will or trust. The partners are entitled to purchasing the share.
The list goes on – a bankruptcy by one partner could place the whole enterprise in jeopardy if the bankruptcy trustee forces the business to be sold to satisfy debts. The buy-sell agreement allows for the buyout of the bankrupt partner, preventing any court-ordered sale.
The Role of Life Insurance in Buy-Sell Agreements
Typically, the way co-owners or partners deal with the potential death of one associate is by purchasing a life-insurance policy so that when one person dies, the other partners collect their insurance policy payouts and use that to buy out the share of the decedent.
Another method is for the business itself to take out policies on everyone, so if one person dies, the policy is cashed out and used to buy the decedent's share.
What Should Be Included in the Agreement to Avoid Disputes?
In addition to clauses restricting the transfer and sale of the departing or deceased partner's share, a mechanism for valuing the business should also be included in your buy-sell agreement.
If there is no agreed-upon method of valuing the business, partners and/or family members of the deceased can get caught up in an endless dispute over which method to use. The departing partner or the family members of the deceased partner will argue for the highest method of valuation. The other partners will be looking for a low or moderate valuation. The dispute could turn into a lengthy, expensive litigation process. To safeguard yourself and your partners from this, it's smart to put your agreed-upon method of valuation in writing.
The buy-sell agreement should also address funding for the buyout. The valuation of the departed partner's share may be too high for a lump-sum buyout. The agreement should cover a method for a down payment, followed by periodic payments over a predetermined period of time. No matter what, your agreement should reflect the best interests of your business and those who lead it. An experienced business contract attorney can help you create a valid, individualized buy-sell agreement that protects you from possible commercial disputes.
Legal Guidance You Can Depend On
When you're in business with others, a solid, mutually agreed upon buy-sell agreement can give you and your partners the protection you need. Should the unexpected or unforeseen occur, a buy-sell agreement can help the business stay on course and remain in the hands of those who created and fostered it.
If you're facing a buy-sell agreement dispute in or around North Haven, Connecticut, or you simply want to make sure your agreement covers everything it needs to, contact our business attorneys at the DeChello Law Firm LLC. We will work with you to resolve any issues and build a buy-sell agreement that safeguards your business or enterprise.